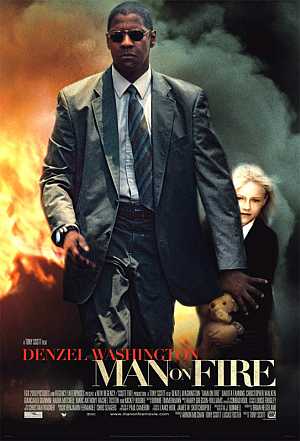 Grade: A-
I really enjoyed this movie. I know that it was released several years ago, but I hadn't seen it until a couple of nights ago on TV. It was exceptional. The film had a unique look to it, it felt gritty and real, yet it maintained an almost mythical quality too.
The story revolves around Creasy (Denzel Washington), a former CIA agent, who is hired by a wealthy Mexican (Marc Anthony) as a bodyguard for his daughter (Dakota Fanning). Creasy is to protect her from potential kidnappers, as kidnapping is wealthy children is a booming business in Latin America. In an ambush, the girls is indeed kidnapped and Creasy is shot and almost dies. Word gets to the family that the girl was killed and Creasy goes on a personal mission to track down every kidnapper and bring them to justice. I know it sounds like a cliche, but the filmmakers pull it off with great beauty, tenderness, and realism.
I highly recommend this film. It is rated R for violence. I watched an edited version on TV, but I could tell what had been edited out.